L.S.C. Electrical Contracting offers many Generator Systems to meet your homes electrical and your financial and requirements. We offer free analysis and consulting so that you get the right System installed correctly the first time.


The Symphony™ II Power Management System continuously monitors your home's connection to utility power. The generator starts automatically when there is an outage and shuts down automatically when utility power is restored.

Compact - The system blends in beautifully with your home's exterior and landscaping, much like your central air conditioner does. Tucked in close to your home, it has a sleek profile and a footprint that is 15% smaller than our other whole house systems.

Durable and Weather-Resistant Enclosure - The new military-grade finish provides years of all-season outdoor protection and resistance to corrosion, chipping and abrasions eliminating the need for an aluminum enclosure.

Electronics-friendly - The system delivers clean, stable power, protecting your computers and other sensitive electronic equipment from damage.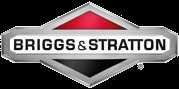 Briggs & Stratton offers Automatic Home Generators that provide permanent, backup protection for your home, and your family. With over 100 years of delivering reliable power products to homeowners, we ARE the Power Experts. Briggs & Stratton gives you the peace of mind to take charge. Before the power goes out.

We are currently creating content for this section. In order to be able to keep up with our high standards of service, we need a little more time. Please stop by again. Thank you for your interest!