Maximum Security offers you the Peace of Mind in knowing that your Home and Family are in the hands of Security Professionals. Our Technical staff has the knowledge and expertise to do the job right the first time. We continually update our software and keep abreast of the latest trends in electronic detection and installation techniques. As authorized Napco Signature and GE-Security Pro dealers we have the advantage of both the largest independent and corporate technical training departments in the industry. Maximum Security offers home security systems with Professional installation and personalized programming. New wireless hybrid systems allow for faster installations with less damage then years ago. The smaller size of devices and eye pleasing, slimline keypads allows your system to blend into your homes decore.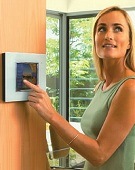 Most of the systems we install can be tied into a veritiy of Home Automation Systems that will control lighting, heating and airconditioning systems, audio & visual systems, as well as many other aspects of your home. They can e-mail you if your children come home late from school, don't rearm the alarm after they do come home.

CONTACT US FOR YOUR FREE SECURITY EVALUATION TODAY

Phone, 732-866-8500 Fax, 732-431-2662

E-mail, info@wiringsolutionsinc.net

WIRING SOLUTIONS INC.